Welcome to BITbyBIT Software Group LLC!
Specializing in development tools for AmigaOS4(tm)
NEWS

Dec 30th, 2016:
SDK Browser MUI Tip:
If you are programming using MUI for AmigaOS4(tm) and would like to live browse
the MUI library using the SDK Browser, make sure the following Tooltypes are set
in the SDK Browser icon (Assuming MUI is installed at SDK:MUI):


      XML_PATH2     = SDK:MUI/xml/
      AUTODOC_PATH3 = SDK:MUI/AutoDocs/MCC
      AUTODOC_PATH4 = SDK:MUI/AutoDocs/MUI
      INCLUDE_PATH8 = SDK:MUI/C/include/
    


Click on the image above to see higher resolution version

Also updated the SDK Browser v2.1.2.0 [FREEWARE Edition] About text: README / About


Dec 27th, 2016:
The updated SDK Browser v2.1.2.0 [FREEWARE Edition] is now also available
on OS4Depot: SDK Browser on www.os4depot.net



Dec 23rd, 2016:
BUG Fix Update: SDK Browser v2.1.2.0 [FREEWARE Edition] Released
Fixed a bug in the FREEWARE version which resulted in causing
AmiDock to quit/crash when the SDK Browser itself was quit.
Bug reported by: "imagodespira (Thomas)" on amigaworld.net forum.

Download it here: SDK Browser v2.1.2.0 [FREEWARE]


Dec 22nd, 2016:



As a proud supporter of both the new Amiga 1200 Cases and new Amiga Compatible Keycaps projects, brought to you by A1200.NET, I encourage everyone you can to help push the new Compatible Keycaps Kickstarter project over the top. Get yourself a fresh new set of Keycaps to brighten up those yellowing keyboards, and help an important project bring us one step closer to producing *new* Amiga computers with that Classic Amiga style. THANKS!

Dec 17th, 2016:
Minor update: A maintenance version of the SDK Browser (v2.1.1.0) has been released
which addresses finding a poorly named AutoDoc file for "xena.resource". The SDK Browser
expected the corresponding AutoDoc file to match the interface name of "xena.doc", but
the actual AutoDoc file is named "xenares.doc". The updated version now automatically
finds the "xenares.doc" for you, so you do not have to rename the AutoDoc file to correct
the issue. Thanks to "Kamelito" on www.amiga.org for pointing out the issue.

SDK Browser version 2.1.0.0 releases!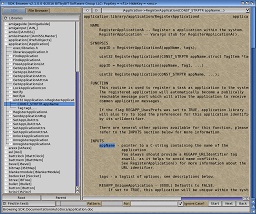 It is finally here for everyone to enjoy, the SDK Browser v2.1.0.0,
has been officially released in both commercial and FREEWARE versions.

Get yours today!

Check out more details here: README

Dec 15th, 2016:
I have been posting a few responses to questions being asked
on some of the Amiga Forums, and thought I should point them out
so that people having the same questions would not miss my
responses, just because they did not happen to read *all* the
Amiga sites. Here are the links:

Thread on www.amigaworld.net
Thread on www.amigans.net
Thread on www.amiga.org


Dec 12th, 2016:
UPDATE: The SDK Browser v2.0.0.115 has been released to all
registered owners of the SDK Browser, and AVD Suite owners.
This version is likely to be the last before v2.1.0.0 is
officially released.

Please report any bugs you may find in this version, so they
can be addressed before the release. Thanks.

This version addressed a minor bug in the saving of the preference
file, and added some new tool types for setting externally launched
programs.

See the updated README file for this version here: README

Dec 10th, 2016:
A test version of the SDK Browser v2.0.0.101 for AVD Suite owners,
is now available for download in the Members Only area.
The work of updating the remaining AVD components to build
under the latest AmigaOS4 SDK is proceeding well, and a full
update of the AVD Suite BETA should be available soon.

Dec 9th, 2016:
For all SDK Browser registered owners: a minor update has been posted
to your respective download folder. So if you have already downloaded v2.0.0.100,
you should download it again to get v2.0.0.101.

The only difference between these two versions is that v2.0.0.100 registers itself
to AmigaOS as an "Unique Application" by mistake. This blocked the SDK Browser's
ability to detect itself and open the already running copy, if you attempted to
to relaunch the SDK Browser again, when it was already loaded.
v2.0.0.101 corrects this again.

Dec 8th, 2016:
SDK Browser version 2 release to Registered owners!
Ten years after the public release of the SDK Browser v1.6.0.0,
a newly updated build has been released to all registered owners.



Version 2.0.0.100 is a Release Candidate for the upcoming SDK Browser v2.1.0.0
and contains many new features never before released to the general public.

This release is based on the version that was demonstrated at AmiWest in 2010,
but contains several important changes and fixes. Here is a quick rundown of
what can be found in this version:

Updated and built for the latest AmigaOS4 SDK
Tested under AmigaOS4.1 FE [Update 1]
Support for 64-BIT Filesystems
New (STRUCT)ure browsing
User settable Fonts and displayed Tab lengths
Dynamic target screen selector
Mouse Wheel Variable Acceleration Mode
Enhanced user preference settings
New "Find Files (in dir)"
New "Search (in Search Results)"
New "Open in File Browser"
New "Open in Workbench window..."
More...
Check out more details here: README

Best Regards,

Jamie Krueger

Archive NEWS:[HOME][2019][2018][2017][2016][2010][2009][2008][2007][2006][2005][2004]